Patio Heaters In Dubai
Dubai is known as the city of travels because daily thousands of people came here to enjoy their holidays, attend business meetings or just came for shopping. Dubai is also known as the city of hotels because there are hotels, restaurants, shopping malls, clubs and cafe everywhere. Dubai has hot weather in both summer and winter but in winter's evenings are quite cold in the months of December, January, and February because the city is surrounded by the vast desert of Middle East. So, it is necessary to have patio heaters in Dubai to survive for both; restaurants owners and people who are living there to feel comfortable in winter.
We offer 2 types of gas patio heaters (Dubai based stock)
The pyramid outdoor patio heater

Brand: (xHeating) QTSS01
The mushroom outdoor patio heater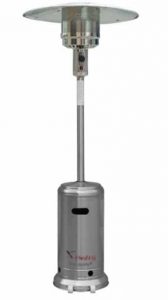 Brand : (xHeating) MPHSS01
The Dubai's cold can cause the high temperature, caught and flue if you are not in the warm atmosphere. That's why you see Outdoor heaters in Dubai everywhere, whether its restaurant patio, outdoor outing place or even patio in a house, clubs and BBQ parties, etc. patio heaters in Dubai does not just provide you warm in winter but also it is known as the symbol of fashion and style.
The patio is the great place of the house for arranging BBQ parties, family cooking or entertaining your guests, etc. But it could be very uncomfortable in winter's evening in Dubai to entertain or do relaxing activities in patio due to cold weather. So, it is necessary for you to have patio heaters in Dubai which are also known as outdoor heaters. Patio heaters in Dubai will not only make your evening more comfortable but you will able to enjoy and do more seasonal activities on your patio with your family, friends, and relatives. So, if you are living in Dubai, then it is necessary for you to have a patio heater.
There are mainly two types of patio heaters in Dubai; electric patio heater and gas patio heater. Both of these outdoor heaters has their advantages. For example, if you are living in an area where natural gas in available then you must go with it because it could cost you less but if you don't have access to natural gas or liquid propane, then you have the second option to use your electric patio heater in Dubai. Electricity is very cheap in Dubai just like gas. So, you can use it without worrying about your electricity bill. For some people, gas patio heaters could be uncomfortable due to the release of gas in the environment, but there is environment-friendly gas patio gas heaters are available too in Dubai which does not just provide you the feeling of fresh air but also you don't feel the burden in the air while you are breathing.
Electric patio heaters could be the choice of many people. Because there is portable electric patio heater also available which you can carry with you when you are traveling, they are small in size and can be operated through a generator or even car battery as well.
Why do you need to buy patio heater in Dubai?
Think beyond just getting warm in winter's evening on your patio in Dubai. Outdoor heaters are not just another household to have but it can benefits you many ways:
You can enjoy seasonal activities on your patio.
They are available in different colors and style to match with your patio.
Patio heaters are environmental friendly which does not harm your health.
Outdoor heaters for patio in Dubai now known as the symbol of fashion.