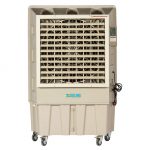 Evaporative outdoor air coolers have now been used in a wide range of applications, as industrial cooler, indoor humidifier and outdoor cooling aspects. In fact, portable air cooler and traditional air cooler are very similar in their traditional design such as their power consumption and cooling efficiency. The main difference is that the operating principles of a conventional air cooler are mainly focused in indoor circulation while portable outdoor air coolers can absorb fresh outdoor air so that they can help lower the indoor air temperature and keep maintaining indoor air to be fresh at the same time. But we should be noticed that evaporative outdoor coolers usually help most when we need to lower the temperature at a particular outdoor small area.
Advantage
The significant benefits for portable air coolers over the traditional coolers are:
1. It is evident that we do not need to install portable air coolers for usage. We can bring them whatever places we want since they are. Therefore, they are very convenient to use in outdoor activities or our offices, etc.
2. When we need to cool down a particular small area, portable air coolers will be much more efficient than the traditional one. So they usually apply inside the computers or equipment to avoid overheating.
3. Many portable air coolers have rollers so that we can move them to the places we desired very quickly. For example, w can move it for specific uses in our rooms or even in a kitchen when necessary.
check out our outdoor air cooler rental service here
​
 
Power:
290W.
Airflow:
7000 m3/h.
Water tank:
70L
Power:
360W.
Airflow:
6500 m3/h.
Water tank:
55L
N.W:
44kg
Power:
380W.
Airflow:
8000 m3/h.
Water tank:
57L
In any instance, with the goal that you could work these form of Outdoor air coolers you need a lot of plain water. Because of this, a portable air cooler demands water to operate and a few models recommend adding ice for improved effectiveness. Evaporative coolers utilize simple technology and electrical capability to give cooling effect. Every evaporative Air cooler necessitates service two or more times annually. There are three major varieties of evaporative air coolers. They are eco-friendly, energy-efficient coolers that use the simple power of evaporation to provide cooling comfort.
In the conditions of noise too, a cooler produces not as much noise in comparison with a normal portable-air-conditioners. The very first thing to take into account when purchasing an evaporative cooler is determine whether your home is in the proper kind of climate. It must be the proper size to effectively cool. With the introduction of higher energy outlays, the evaporative cooler as an ac process is again assuming prominence in the market.
It is possible to hold this fan or utilize it like a desk fan. A fan draws air from away from the unit during the moistened pad. A special kind of fan is utilized to raise the rate of evaporation and produce the air cooler, together with distributing the cool air throughout the residence.
A little unit could possibly be 2,500 CFM, even though a complete house unit is going to be 6,000 CFM or larger. For instance a little portable unit won't adequately cool a large-sized room. Although some traditional ac units emit a specific amount of carbon dioxide, misting fans emit a far lower degree of CO.. Evidently, solar air-conditioning units are advantageous to use because they are environment-friendly. Although big ac units are still used in big establishments, using small air conditioners is currently turning into a trend for the majority of homeowners.
Since sodium water is truly stripped far from the hardware, it is not vital to go through the real issues related to purifying the particular cushions. Since it is really stripped far from the hardware, it's not important to experience the genuine issues with respect to purging the specific cushions. If your water is warm when you begin, it will take more time to find cool. however, it'll eventually do the job. All you will need is to get dry air contact water.
Air conditioners take a good investment, comparatively. Small air conditioners arrive in rather very low rates. They are a major breakthrough in the air conditioning industry. In contrast, they are typically much louder when operating. In regards to portable air conditioners, you may pick from quite a few top brands like DeLonghi, Levante and Honeywell portable air conditioners. It is likewise way lighter in comparison with huge and heavy air conditioners.
All things considered, so that you may work these kind of outdoor coolers you need a lot of plain water. If you're utilizing these coolers to supply makeup air there isn't any need to give water to the unit. outdoor Air coolers and heaters are excellent for an assortment of spaces. They are a great way to add a little extra heating and cooling to a room in an easy and efficient way. There are a few exact inexpensive Evaporative air Coolers which you can purchase to deliver this makeup air.
We offer all above outdoor air coolers, misting fans and outdoor gas patio heaters for rent also.