Furnish, enlightens and refreshes
The pleasure of experiencing the outdoors. The piece of furniture with a modern taste: a solution Made in Italy.
Take your living room in the open air to turn your garden into a real living area.
Atmosphere is a proposal for outdoor furniture that reflects the design and enjoy your Life production philosophy of the brand,
whose cornerstones are design, quality materials, and versatile products?
Thanks to the shelf you can benefit from the advantage of having a piece of furniture with a comfortable and practical support.
The action of the spraying and the 'lighting are, then, essential features of this piece of furniture.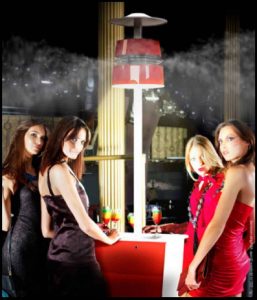 Atmosfera mist fan specifications:
– Electric motor-pump group.F40
– support in painted white wood floor
– Fan with crown at six fog nozzles with anti-drip system
– Analog timer for setting the pulse / pause cycles
– tank (30l) 7h autonomy with times stops 10 "/ work 5."
– wheel kit
Options
Remote control with ON / OFF function lights and ON / OFF + misting fan
* LED light kit (26W) 4000K, 1140 lumens – PC.KLND
* 2 stools Kit in painted white wood