The function of the evaporative air coolers is cooling air using water to cool the air. They are portable and easily manageable devices. There are recommended models to fit inside and others to also use them outdoors.
Advantages
Where to put it?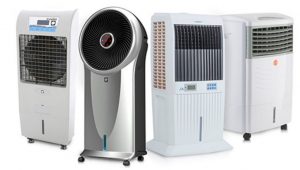 Keys
Must have a good ventilation.

Evaporative air coolers or conditioners should be used in rooms with doors and windows open for fresh air, not to accumulate moisture and be efficient.

Fill the water tank to allow the process of evaporation.
Less humidity in the environment, leads to get more effeciency to reduce the temperature using evaporative cooling.
The first thing that must be taken into consideration is that an evaporative air cooler is not a traditional air conditioner (even though some people call it outdoor A/C). What some calls "outdoor Air conditioners" are actually evaporative air cooling systems, i.e., that cool the air through water evaporation & temperature to built a reservoir of water and ice.
Evaporative cooler apparatus absorbs the air in the room and goes through a wet filter that makes it cool air that is expelled to the stay by a fan.
Internal process of an evaporative air cooler
Advantages
The advantages of evaporative air conditioners or coolers include:
-They are portable, easily manageable and, therefore, do not require facilities or works.
-The consumption is lower than that of the conventional air conditioner (can save up to 80% of energy with respect to the use of air conditioning). Spending ranges between 60 and 180 Watts depending on the model. Its price is also less than air conditioning.
– Do not use refrigerants or compressors.

-In addition the air conditioning units maintain comfortable relative humidity in the environment.
– Eliminates static electricity from the environment.
– Renewing the air inside by an air cleaner, fresh and filtering, avoiding smoke and odors.
Where to put it?
Evaporative air coolers are recommended for homes that support a hot and dry climate. It is contraindicated in those places where there is high humidity. In fact, there is to ventilate the room frequently to avoid condensation of moisture and so the air conditioner to cool new air repeatedly.
This continuous ventilation of the room allows to expel warm and stale air and prevents the entry of dust from the outside.
-In dry climates they may lower the temperature between 10 and 12 degrees.
-In humid climates, between 5 and 7 degrees.
In this sense, the more dry sea environment, greater will be the cooling and, therefore, greater the consumption of water also.
The criteria that you should keep in mind when choosing an evaporative air conditioner is if you need it for use indoor or outdoor of the House and the square meters to be air conditioned.
-For a stay of between 10 and 15 m² a 100 w cooling unit is needed.
-For a stay from 20 m² (such as a living room) is sufficient for a 150 w cooling unit.
-In the case of heated outdoor you need a unit with more power and a plug to connect it. Some models allow you to connect a hose directly to renew the water.
It is necessary to carry out a review, cleaning and disinfection annual deposit of water. He is recommended, in addition, a last test of the appliance at the end of the season.
---
Here you can find few of the evaporative outdoor coolers We offer, contacts us if in doubt which to select: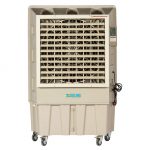 Also outdoor coolers rental available for selected models (here)